Introduction
Hello! I am a first-year undergraduate student at Northeastern University in Boston MA, studying a combined major in both computer science and biology. My hometown is Rockville, MD.
This summer, I am researching developmental neuroanatomy with computational neuroscience at the Boston Children's Hospital. My objective is to create neuroimaging tools for research and diagnostics.
In the fall, I will be investigating neural circuits in C. elegans at the Northeastern University Network Science Institute.
Computational Science
Clearly, I'm very excited about the growing field of computational medicine. I am always looking for opportunities to work in related disciplines, especially topics that apply computational engineering to biomedical research.
McGill Centre for Integrative Neuroscience (2018)
While studying abroad in Montréal, I spent two months as a trainee at the MCIN. I helped a research associate rewrite an outdated image processing pipeline.
We developed a Perl script which adapts tools from CIVET 2.1.0 for the semi-automatic volumetric analysis of T1-weighted fetal brain MRI scans. Our work contributes to the study of developmental neuroanatomy.
For more details, check out the slides from my presentation.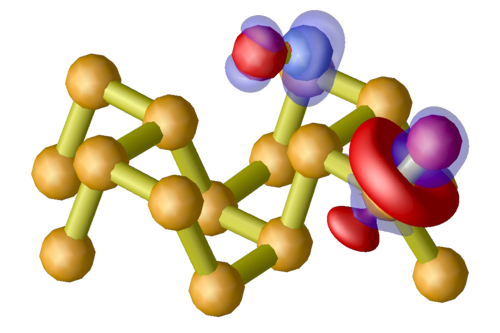 Materials Science (2015)
I got my start in computational science the summer after 9th grade. It was a year after phosphorene was first materialized in a lab. Phosphorene is a graphene-like nanomaterial with unique electrical properties.
My sister and I performed ab initio calculations using the density functional theory to evaluate the adsorption of toxic gas onto several monolayer allotropes. We were regional semifinalists in the Siemens Competition in Math, Science, and Technology.
Clinical Neurology
During the last two summers of high school, I was a shadow at the Johns Hopkins Outpatient Center. I helped Dr. Drachman during neurological examination by recording the data for quantitative dynamometry. I have gained experience with patient interaction and the clinical presentation of several neurological disorders, notably myasthenia gravis, stiff person syndrome, multiple sclerosis, and neuromyelitis optica.
Education
Northeastern University
2019-2022
Khoury College of Computer and Information Sciences
Computer Science/Biology Combined Major
McGill University
Fall 2018
School of Continuing Studies
First year single semester exchange student through Northeastern University's N.U.in program.
Montgomery College
Fall 2017
Spring 2018
Dual Enrollment
I took some evening classes at a community college during high school.
| | |
| --- | --- |
| CMSC 260 | Computer Security (CompTIA Security+) |
| BIOL 210 | Microbiology |
Thomas S. Wootton HS
2014-2018
High School
National AP Scholar Award, Certificate of Meritorious Service Award